Nuragic Medicine Wheel
NURAGIC MEDICINE WHEEL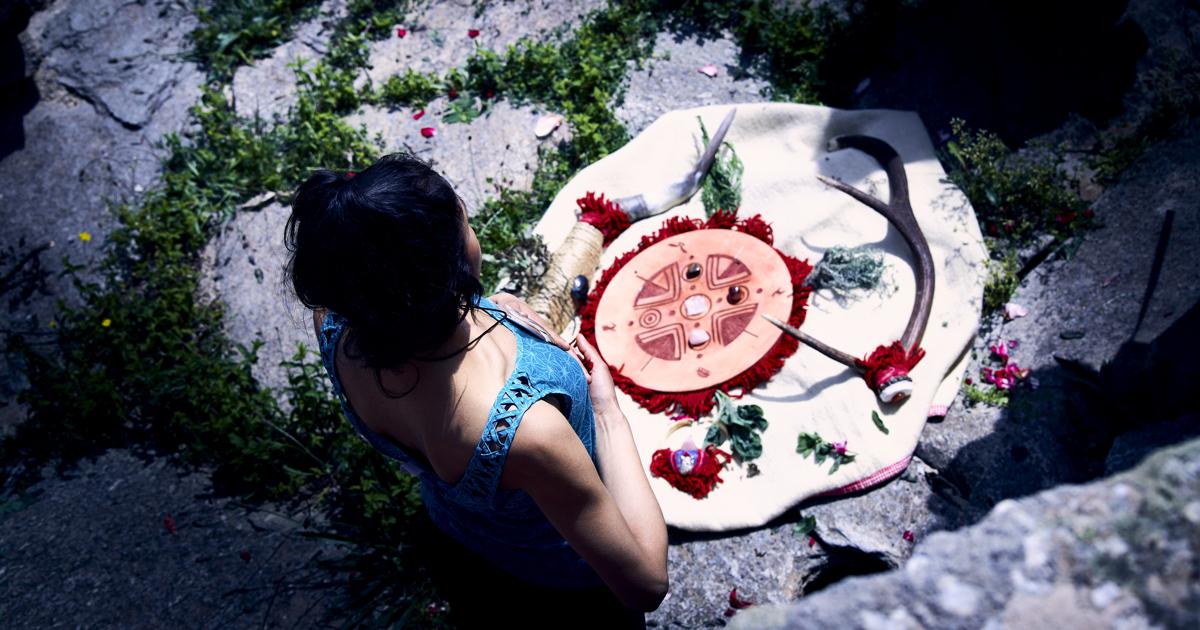 NURAGIC MEDICINE WHEEL
Inspired by the Medicine Wheels of other cultures and from the studies of different Scholars like Leonardo Melis Shardana I calcolatori del Tempo (2008), Piero Piscedda, Sa Pintadera (2007). Nicola de Pasquale, Unità Nuragiche (2007). Franco Laner, Sas Pintaderas (2009). AAVV, Pani (2005) I created the Nuragic Medicine Wheel ® with symbolic connections to animal archetypes of Ancient Sardinia that we find the in the bronze satutues from Nuragic culture: The Barn Owl, The Sardinian Deer, The Wild Boar, The Bovine.
The creation of the sacred space using the Pintadera as the Nuragic Medicine Wheel, the calling of the Island Spirits, four directions, ancestors are the tools of power.
Sa Pintadera is not only a symbol of the most magical Nuragic Sardinia but, according to some studies, may have been an ancient calendar of the people who dominated the island. Academic studies report an everyday use of the Pintadera as a kind of stamp with which one 'Pintadera' and impressed its circular designs on bread or textiles. This ancient terracotta or stone artefact is decorated with beautiful geometric motifs, a symbol of archaic Sardinia perhaps also used for some ceremonial purposes.
We will get to know the symbolism of four important animals of the Sardinian tradition, through artifacts that we can still admire today in Archaeological Museums.
WHAT DO WE DO?
The Pintadera found in the Nuraghe Genna Maria that you can see at the Museum of Villanovaforruwill become our Medicine Wheel, through it we will know ourselves, our actions, emotions and thoughts that we express in our daily life and the spiritual realm.
At the end of the course each of the participants will be able to personalized the Nuragic Medicine Wheel according using their own intuition. Each participant will have the opportunity to work with 4 animal archetypes of the Nuragic Medicine Wheel. You will learn the symbolic correspondences cardinals point between the elements of nature, the seasons, the spirits of nature, colors and much more.
Workshop will consist of 5 Hours of appointments in presence or Online on the Zoom.
At the end the participant will have acquired the following knowledge:
How can use the Pintadera as a Medicne Wheel
Rituals of opening and closing an individual or group session.
The calling of local spirits and their allies.
Building the Nuragic Medicine Wheel: spirits and powers of the 4 directions.
Connection and work with the four Animals,
Certificate of Participation.
PDF will be sent to the participants at the end of each lesson.
Opportunity to participate in special and residential events in Sardinia with limited number of partecipants, check the events section of the shop
This corse it follow by the Sacred Ceremony of iniziatiation of the Nuragic Rites® that will be held by me every year year on last Sunay of May in the Ancient Nuragic Site in the center of Sardina .